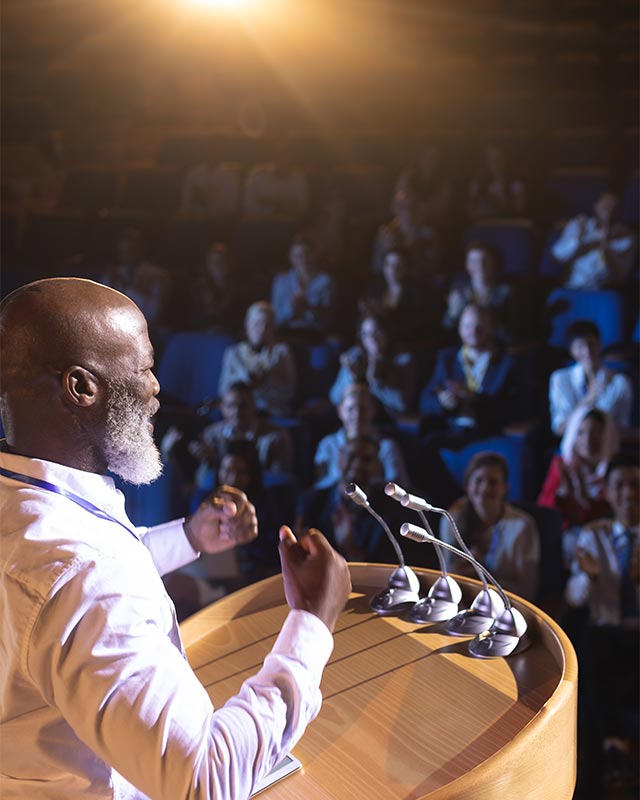 Youth Ministry, Seminars, & Motivational Speaker Events at Yes I Can
As part of our mission to spread a message of hope and God's love for adults and youth everywhere, we provide several opportunities to reach out to those in need.
Yes I Can accepts booking requests for our youth ministries, seminars, programs, and motivational speakers' events. If you're interested in inviting us into your community to spread our positive message, contact us today or book online.
Youth Ministry, Seminars, & Events
The Just Girls (JG) Conference is an annual interactive program designed just for girls, sponsored by Yes I Can and hosted by Gail Moore. The conference helps girls create a new vision and mindset by bringing them out of their worldly environment and into a peaceful, more loving atmosphere. We give them the freedom to vent their frustrations and find real solutions for the struggles they're facing in their lives.
Yes I Can has a network of retired and active athletes from the NFL and the NBA who are dedicated to helping children. They host football camps, basketball camps, 3-on-3 basketball tournaments, and coaching clinics. Through sports, we connect with boys and girls while spreading a message of God's faith. Our goal for our sports camps is to promote a positive lifestyle for the youth in our communities.
Ministries, Seminars, & Events for Adults
Community Outreach
Yes I Can's community outreach programs are designed to address a specific need in a community by providing help through ministries and seminars. Our goal is always to find a way to help those in need, no matter where they are in the United States. Contact us today to plan a community outreach mission in your state.
Prison Ministry
Over 35 years, Yes I Can has ministered in over 200 penitentiaries. Bringing a message of love, hope, and compassion to inmates, our motivational speakers are willing to travel across the nation to help inmates. From Angola to Rikers Island, no prison is off-limits. Yes I Can also networks with other prison organizations with re-entry programs to assist inmates in re-entering society successfully.
Public Speaking Forums
As a husband and wife team of motivational speakers, Art and Gail use their platform of sports and contemporary music in many different forms. Forums include adult retreats, youth conferences, seminars, banquets, churches, Governor Prayer breakfasts, and luncheons.
Evangelism
Art works as an ordained minister alongside his wife Gail, traveling internationally as an evangelist. Together they carry the gospel of Jesus Christ into as many nations as possible through their ministries and seminars.
Drug and Alcohol Seminars
Art and Gail are certified drug and alcohol counselors. They are certified through the Say It Straight Communications corporation. Say It Straight is an evidence-based program for the promotion of sobriety and drug-free schools. At our drug and alcohol seminars, we're here to provide the emotional support needed to get through life day-by-day after experiencing substance abuse.
Human Trafficking Prevention
Yes I Can partners with human trafficking organizations to assist in locating victims, bringing them to a safe place, and re-establishing them into society. We also host virtual seminars honoring victims who have overcome their struggles.
Marriage Counseling
Art and Gail have been married for 40 years and have personally experienced the ups and downs of married life. Together, they minister to and counsel singles and married couples who are experiencing marriage and relationship problems.
The Circle on Zoom
The Circle is an online and interactive discussion for individuals to vent their frustrations, share past struggles, ask questions, and receive godly insight. The topics of discussion are endless, and we offer solutions to equip better those struggling in life.
Our music workshops consist of teaching the art of music and entertainment. We teach piano, voice, music theory, stage performance, music appreciation, give insight into the music industry, studio recording, and video production.
Gail is an accomplished pianist, singer, and songwriter that has worked with some of the most popular entertainers in the music business from The King of Pop, Michael Jackson, to The God Father of Gospel, Andrea Crouch. Gail, as an independent artist, performs her own concerts and with other top artists around the world.
Our concerts celebrate God's love and encourages our audience to live life to the fullest for Him. You can find when our next concert will be on our calendar of events.
Help Support Our Mission by Donating to Yes I Can
Yes I Can is always accepting monetary donations and prayer requests for those in need. Contact us today if you would like to get involved in our organization or would like to contribute.